SV10-100 Sine-Wave Vibro Viscometers
Revolutionary range of viscometer featuring the vibrating tuning fork measurement method. The SV Series Wave Vibro Viscometers provides a fast highly accurate result and is simple to use. Ideal for non Newtonian products particularly those with a volatile nature. Two models are available with 10,000cP and 100,000cP Capacity.
Product Brochure & Manual
Related Video
x0XLbWNOiBE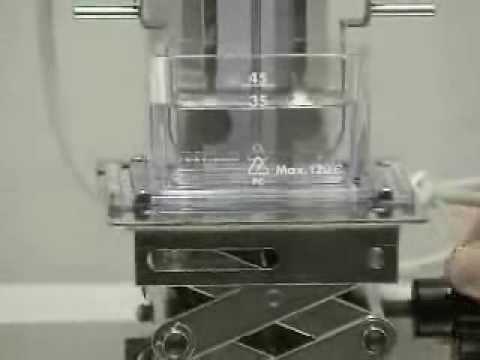 SV Series Viscometer Technology - How to Use
Features
Industry leading 5 years warranty
High Measurement Accuracy
Tuning-fork Vibration Method provides for excellent repeatability of 1% of reading for viscosity measurement by our Sine-wave Vibro Viscometers SV-10 / SV-100
Low Viscosity Measurement And Wide Measurement Range
Low viscosity of 0.3 mPa•s ( cP ) to high viscosity of 10,000 mPa•s ( cP ) sample fluid can be measured by the SV-10 and 1000mPa s (cP) to 100,000mPa s (cP) by the SV-100, without changing the sensor plates
Real-Time Measurement
The sensor plate is thin and small, in area and in mass, making it is less influenced by the temperature change of the sample fluid and as a result the viscosity measurement tracks the change of viscosity of the sample fluid
Temperature Measurement
It is very important to measure the temperature of the fluid correctly because the viscosity is very much dependent upon this temperature. The SV series can detect an accurate temperature immediately because the fluid and the detection unit (sensor plates), with small surface area/thermal capacity, reach thermal equilibrium in only a few seconds
Continuous measurement
The SV series, Tuning-fork Vibration Method does not cause damage to the sample fluid and allows measurement of cloud point of samples such as surface active agents and of surface/interface changes such as wet ability because of its excellent feature of a wide measurement range without the need to replace the sensor plates
Viscosity Calibration
With Viscosity Standard, viscosity calibration can be easily done. 1 point calibration or 2 points calibration is selectable in the calibration mode
Non-Newtonian Sample Viscosity Measurement
Thin sensor plates allow little deformation of sample texture and thus enable measurement of stable viscosity values
Foaming Sample Measurement
The low drive frequency of 30Hz allows measurement of foaming samples without breaking minute foams and with less scattering of larger foams
Flowing Sample Measurement
Even the viscosity of flowing samples can be measured, including liquid in turbulent flow. This provides field management with identical data to that obtained in the laboratories
Separated type model
The SV series comprise a separate Display Unit and Main Unit offering excellent placement flexibility
Vacuum Fluorescent Display
Reading errors are avoided with the easy-to-read, large, clear display: 13mm height for viscosity measurement and 11mm height for temperature measurement
Small Sample Size
The standard sample cup requires just over 35 ml thus reducing waste
Easy Cleaning
Due to the simple structure, the SV series sensor plates, temperature sensor and the protector made of stainless steel (SUS 304) can all be easily and quickly cleaned
Sol and Gel Measurement
Sol and Gel samples can be measured during the change of material state
Standard RS-232C Interface
RS-232C interface and a data connection cable (DB25-DB9) are supplied as standard for your PC or printer connectivity
Model & Capacity
(scroll right for purchase/enquiry details)
Model
Capacity
Weighing Pan
Unit Price
excluding GST
Action
SV10-100

Sine-Wave Vibro Viscometers

NA
$ POA
Enquire
Accessories & Options
(scroll right for purchase/enquiry details)
| | | | |
| --- | --- | --- | --- |
| AX-SV-33 | 35ml sample cups (10pcs) | $ POA | Enquire |
| AX-SV-34 | 10 ml sample cups (10pcs) | $ POA | Enquire |
| AX-SV-35 | 13 ml sample cup | $ POA | Enquire |
| AX-SV-36 | Vertical Position lock | $ POA | Enquire |
| AX-SV-37 | Water Jacket Unit | $ POA | Enquire |
| AX-SV-42 | Analog Output (0-1v) | $ POA | Enquire |
| AX-SV-43 | 5m Display Extension Cable | $ POA | Enquire |
Where can I purchase this equipment?

A&D Australiasia has a nation wide dealer network with outlets in all capital cities and in most regional locations. Call Toll Free 1800 241 434 for the location of your nearest dealer.

My product requires service/repair, how do I arrange this?

Contact the A&D Australiasia Service department on 08 8301 8120 or at [email protected] and they can advise on and coordinate your service requirement.

All A&D products purchased within Australia are covered by a warranty period which varies from 12 months to 5 years depending on the model.

Warranty covers against any defects in the material and workmanship negligence during the manufacture or assembly of the product for the period of the warranty.

Warranty claims should be submitted through your initial dealer or place of purchase with your proof of purchase tax invoice.