SJ Compact Bench Scale (non Trade Approved)
A low cost Bench Scale, the SJ-HS is ideally suited to any basic weighing application. Featuring capacities up to 12 kg and a settling time of less than 1 second the SJ-HS will meet all product packing requirements.
Product Brochure & Manual
Related Video
pjk9M5kXfK8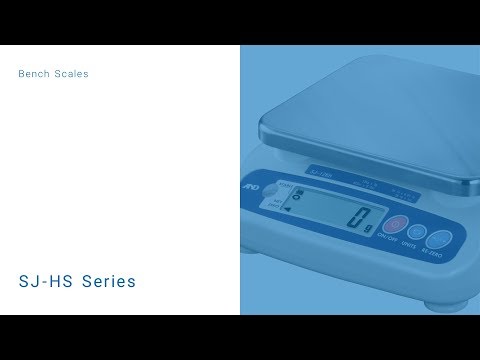 SJ Series Bench Scale
Features
Fast Weighing Response
Large 25 mm LCD
One year warranty
Durable Casing and Light Weight
Large Stainless Steel Weighing Pan
Full Digital Calibration
Status Indicators
Automatic Power Off function
Dual Power Supply
Spirit Level & Adjustable feet
Model & Capacity
(scroll right for purchase/enquiry details)
Model
Capacity
Weighing Pan
Unit Price
excluding GST
Action
SJ-1000HS non trade model

1000g x 0.5g

230mmx 190mm
$300.00
Add to cart
SJ-2000HS non trade model

2000g x 1g

230mmx 190mm
$300.00
Enquire
SJ-5000HS non trade model

5000g x 2g

230mmx 190mm
$300.00
Enquire
SJ-12KHS non trade model

12kg x 5g

230mmx 190mm
$300.00
Add to cart
SJ-5001HS non trade model

5000g x 1g

230mmx 190mm
$330.00
Enquire
SJ-20KHS non trade model

20kg x 10g

230mmx 190mm
$330.00
Enquire
SJ-30KHS non trade model

30kg x 20g

230mmx 190mm
$330.00
Add to cart
Where can I purchase this equipment?

A&D Australiasia has a nation wide dealer network with outlets in all capital cities and in most regional locations. Call Toll Free 1800 241 434 for the location of your nearest dealer.

My product requires service/repair, how do I arrange this?

Contact the A&D Australiasia Service department on 08 8301 8120 or at [email protected] and they can advise on and coordinate your service requirement.

All A&D products purchased within Australia are covered by a warranty period which varies from 12 months to 5 years depending on the model.

Warranty covers against any defects in the material and workmanship negligence during the manufacture or assembly of the product for the period of the warranty.

Warranty claims should be submitted through your initial dealer or place of purchase with your proof of purchase tax invoice.