EJ Series Compact Balances
The EJ Compact Balance outperforms other higher priced scales while still maintaining a compact size. These accurate, high quailty, attractive, stackable units are perfect for applications where portability or easy storage are paramount. This EJ series supports multiple weighing units and has a breeze break option.
Product Brochure & Manual
Related Video
1tDjWEpExR0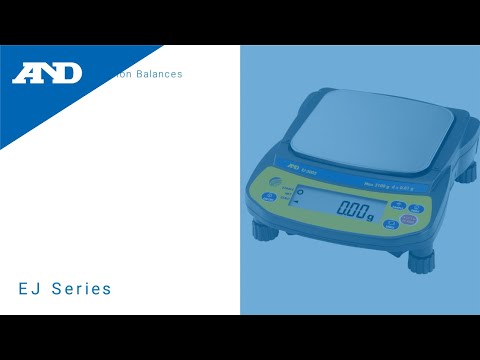 EJ Series of Entry-Level Balances
Features
Unique & Engaging Colour Scheme
Three years warranty
Multiple Measurement Units including a counting and percentage mode
Security Feature for protecting the balance from theft
Stacking Feature allows easy and convenient storage of multiple units
RS-232C interface outlet (i.e. to hook into a printer) is an optional extra
Calculates Density automatically when using the optional Density Determination Kit
Simple Keyboard Function
AC or Battery Operation (4 x AA)
Configurable Mode Key allows customisation of balance to suit users needs
Backlit Display can be set to switch off after a specified time period
Underhook weighing on 0.1g models only
Comparator Function gives a visual reference against a set target weight
Modular Styling allows simple fitting of the breeze break and density options
Optional carry case : 34.5cm x 31.5cm (about 1.4kg)
Additional Information
A perfect solution as a teaching or instructional balance given it's ease of operation, high flexibility, ease of storage and transportation plus the innovative features such as the density determination capability. Also ideal for field work where battery operation and a high visibility display are essential. Can be locked down to prevent theft so ideal for work areas with a high throughput of occupants.
Model & Capacity
(scroll right for purchase/enquiry details)
Model
Capacity
Weighing Pan
Unit Price
excluding GST
Action
EJ-210

210g x 0.01g

Ø110 mm
$530.00
Enquire
EJ-410

410g x 0.01g

Ø110 mm
$700.00
Enquire
EJ-610

610g x 0.01g

Ø110 mm
$830.00
Enquire
EJ-1500

1500g x 0.1g

127mm x 140mm
$530.00
Enquire
EJ-4100

4100g x 0.1g

127mm x 140mm
$710.00
Add to cart
EJ-6100

6100g x 0.1g

127mm x 140mm
$830.00
Add to cart
Accessories & Options
(scroll right for purchase/enquiry details)
| | | | |
| --- | --- | --- | --- |
| EJ OP-02 | USB Interface + connection USB cable | $170.00 | Add to cart |
| EJ OP-03 | RS-232C Serial Interface | $130.00 | Add to cart |
| EJ OP-07 | Underhook for EJ-4100 & 6100 | $100.00 | Add to cart |
| EJ OP-08 | Underhook for EJ-1500 & 2000 | $100.00 | Add to cart |
| EJ OP-11 Tilting BB | Tilting Breeze Break | $130.00 | Add to cart |
| EJ OP-12 | EJ Carry case option | $180.00 | Add to cart |
What powers this scale?

The EJ series can operate with an AC Adaptor (included as standard) or 4 x AA batteries (not included as standard).

What is the warrantry period for the EM series?

The warranty period within Australia for the EJ series is 3 years.

All A&D products purchased within Australia are covered by a warranty period which varies from 12 months to 5 years depending on the model.

Warranty covers against any defects in the material and workmanship negligence during the manufacture or assembly of the product for the period of the warranty.

Warranty claims should be submitted through your initial dealer or place of purchase with your proof of purchase tax invoice.