Metal Detectors for Food Processing
Quality control and reporting demands on the manufacturer/grower are more stringent than ever, so too is the demand for superior and reliable inspection systems that satisfy supermarket, food industry and industry standard requirements. Our A&D Inspection range now includes the A&D industrial Metal Detectors cleverly manufactured to detect metal contaminants in packaged products, and contributes to the delivery of safe consumer goods. It is Japanese designed to provide an exceptional level of performance, accuracy and reliability, and the compact frame ensures minimal factory space is taken up. A&D Weighing is proud to provide you with this innovative Inspection range, helping to protect the welfare of your customers, and to safeguard your production processes and brand reputation.
Product Brochure & Manual
Related Video
2IMsp6pxMZU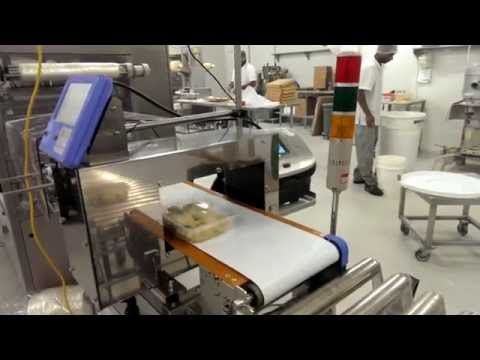 Example of an In-line Metal Detector Inspection System. Food Inspection Simplified!
Features
Protected from dust and water (IP65 Standards)
Hygenic design which can be operated in a wet environment and washed down after use
Automatic sensitivity setting function
Easy operation with 7 inch colour touch panel
variable belt speed of 10-60m/min
Standard ethernet i/o allowing easy networking via LAN
Inspection history function can record up to 100 inspection results
Maintenance & cleaning is simple with detachable conveyor belt.
To see the full library of Inspection videos CLICK HERE
Where can I purchase this equipment?

A&D Australiasia has a nation wide dealer network with outlets in all capital cities and in most regional locations. Call Toll Free 1800 241 434 for the location of your nearest dealer.

My product requires service/repair, how do I arrange this?

Contact the A&D Australiasia Service department on 08 8301 8120 or at [email protected] and they can advise on and coordinate your service requirement.

All A&D products purchased within Australia are covered by a warranty period which varies from 12 months to 5 years depending on the model.

Warranty covers against any defects in the material and workmanship negligence during the manufacture or assembly of the product for the period of the warranty.

Warranty claims should be submitted through your initial dealer or place of purchase with your proof of purchase tax invoice.