Experience premium weighing solutions with outstanding ease of use and maintenance. In addition to promising reliable results, A&D Borealis provides exceptional efficiency and time savings to improve daily tasks and routines while meeting various laboratory requirements, thanks to the ingenious automatic-door mechanism, highly-cleanable structure, and intuitive 13cm wide colour touch screen navigation for advanced user access control, daily/periodic balance check, etc. An ideal choice for users who seek superior professional quality and need nothing but the best. All models also come standard with an external ionizer (static eliminator).
Product Brochure & Manual
Related Video
fP9gEKTvNn4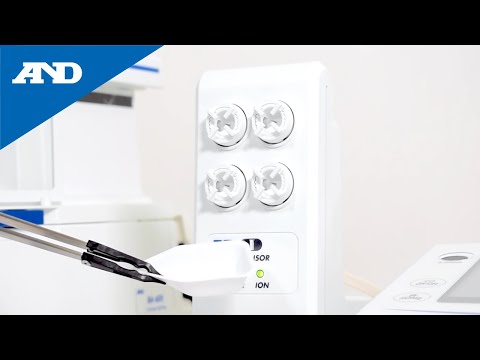 BA-T/BA Balance
Features
Industry leading 5 years warranty
Automatic opening/closing of the breeze break doors using non-contact IR sensors
13cm wide colour touch screen that enables intuitive operation (for the BA-T series)
External ionizer for instant static removal*1
Detachable breeze break unit and easily separable glass panes for better cleanability*2
No grooves for the sliding doors so that contaminants do not accumulate
Inner breeze break for 0.001 mg models to increase stability*2
On-screen leveling assist (for the BA-T series)
AD-Just – Automatic self sensitivity adjustment using the internal weight
Internal repeatability test to quickly assess the performance under a given environment
Daily/periodic balance check support (for the BA-T series)
Minimum weight setting and alert functions
User access control (UAC) with user rights management and password lock functions
History information for log-in/log-out, operation, and sensitivity adjustment (for the BA-T series)
Data memory function (for the BA series)
Selectable response characteristics for trading faster weighing speed for higher display stability or vice versa
GLP/GMP/GCP/ISO compliant output to meet documentation requirements
Universal Flexi Coms (UFC) to customize printout content and layout (for the BA series)*3
Gross/Net/Tare output
Counting mode with the Automatic Counting Accuracy Improvement (ACAI) function
Percent mode function for target weighing or checking sample variation
Statistical calculation function (SCF) to facilitate the analysis of measurements (for the BA-T series)
Auto power ON and OFF functions
Underhook for weighing a magnetic material as well as measuring density
Where can I purchase this equipment?

A&D Australiasia has a nation wide dealer network with outlets in all capital cities and in most regional locations. Call Toll Free 1800 241 434 for the location of your nearest dealer.

My product requires service/repair, how do I arrange this?

Contact the A&D Australiasia Service department on 08 8301 8120 or at [email protected] and they can advise on and coordinate your service requirement.

All A&D products purchased within Australia are covered by a warranty period which varies from 12 months to 5 years depending on the model.

Warranty covers against any defects in the material and workmanship negligence during the manufacture or assembly of the product for the period of the warranty.

Warranty claims should be submitted through your initial dealer or place of purchase with your proof of purchase tax invoice.