SW Series Superior Washdown Scales
The popular SW Series (part of the A&D Warrior Range) is a heavy duty bench scale with a protection level of IP-69K. Ideally suited for the harshest environment where even good quality waterproof devices are found wanting. Suitable for regular high pressure hosing and cleaning.
Product Brochure & Manual
Related Video
50twiGG7ljI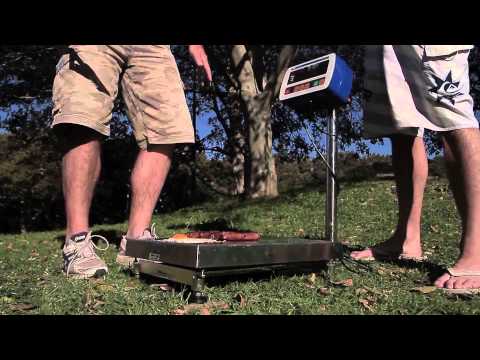 A&D Tough Scales SW Series IP69K Super Washdown Scales from A&D!
Features
Trade Approved by NMI Australia
IP69K – the highest level of dust and water-proofing
Ultimate protection against the effects of condensation
Three weighing ranges-Select the best accuracy level
Streamlined construction for easy cleaning of food-processing residues
Stainless steel weighing pan, frame, and load cell
Rugged and adjustable indicator bracket
Touch sensitive capacitive keys to ensure permanent waterproofing
Bright, multicolored LED display with 5-step comparator lamps for checkweighing applications
Optional desktop/wall-mount stand available instead of the column
Rechargeable battery
1 year warranty
Model & Capacity
(scroll right for purchase/enquiry details)
Model
Capacity
Weighing Pan
Unit Price
excluding GST
Action
SW-6KS

6kg x 0.002kg

250mm x 250mm
$ POA
Enquire
SW-15KS

15kg x 0.005kg

250mm x 250mm
$ POA
Enquire
SW-15KAM

15kg x 0.005kg

300mm x 380mm
$ POA
Enquire
SW-60KAM

60kg x 0.02kg

300mm x 380mm
$ POA
Enquire
SW-150KAM

150kg x 0.05kg

300mm x 380mm
$ POA
Enquire
SW-60KAL

60kg x 0.02kg

390mm x 530mm
$ POA
Enquire
SW-150KAL

150kg x 0.05kg

390mm x 530mm
$ POA
Enquire
Where can I purchase this equipment?

A&D Australiasia has a nation wide dealer network with outlets in all capital cities and in most regional locations. Call Toll Free 1800 241 434 for the location of your nearest dealer.

My product requires service/repair, how do I arrange this?

Contact the A&D Australiasia Service department on 08 8301 8120 or at [email protected] and they can advise on and coordinate your service requirement.

All A&D products purchased within Australia are covered by a warranty period which varies from 12 months to 5 years depending on the model.

Warranty covers against any defects in the material and workmanship negligence during the manufacture or assembly of the product for the period of the warranty.

Warranty claims should be submitted through your initial dealer or place of purchase with your proof of purchase tax invoice.