GF-A Multi-Functional Precision Balance
Take your laboratory into the factory. This multi-function top loading precision scales features high speed weighing and settling times. The GF-A precision scale series is calibrated externally and has multiple weighing units as well as counting and statistical calculation functions. The GF-A series has external calibration. Click on the video icon to see some of the features of this precision scales.
Product Brochure & Manual
Related Video
mQ-44hrHgQs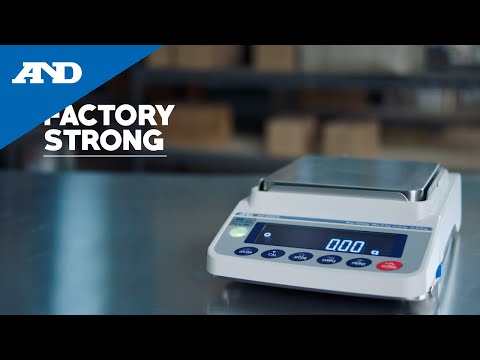 GX-A/GF-A Precision Balances from A&D
-NMdFBfuw4s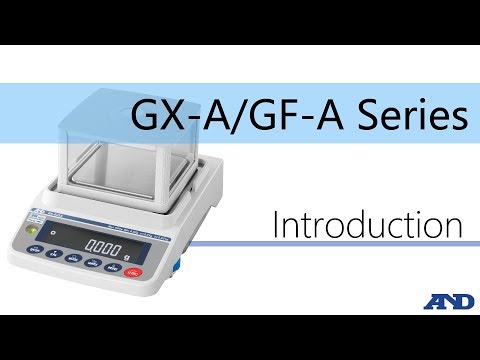 GX-A/GF-A Series Multi-Functional Precision Balance
Features
Industry leading 5 years warranty
Impact shock detection (ISD)*1 that visualizes what degree of impact shock is detrimental to the balance and allows users to take preventive measures as necessary
Flow rate display (FRD) that makes calculating and recording flow rates easier and more accurate
Auto precision assessment (APA) and minimum weight calculation using electronically controlled load (ECL)*2
Cushioning under the weighing pan to mitigate impact shocks
Protection against vertical and transverse static overloading
Flow rate comparator that indicates whether the flow rate is within the designated limits
Tare memory function that saves the tare value in non-volatile memory
Alert function to ensure that the measured quantity is not smaller than the set minimum weight
Fast stabilization of approx. 1 second (approx. 1.5 seconds with the GX/F-1603A and GX/F-10002A)
Selectable response characteristics for trading weighing speed for higher display stability or vice versa
Large, front-mounted spirit level with LED illumination
Easy-to-adjust leveling feet with thumbwheels
Clearly visible, reverse backlit LCD display
Multiple weighing units: g, oz, lb, lb-oz, ozt, ct, mom, dwt, grain, specific gravity, and a user-programmable unit for conversion applications (either tael, tola or Newton can be added upon request)
User access control (UAC) function that password-protects the balance at two levels
Key lock function to make the balance operable only by sending commands from an external device
Clock and calendar function
GLP/GMP/GCP/ISO compliant output to meet documentation requirements
Universal Flexi Coms (UFC) function to edit serial data output/printout format
Gross/Net/Tare output
Data memory function to save weighing results, calibration results and unit masses for the counting mode in the device itself
Counting mode with the Automatic Counting Accuracy Improvement (ACAI) function
Percent mode function for target weighing or checking sample variation
Animal weighing (average & hold) function for weighing moving objects
Statistical calculation function (SCF) to facilitate the analysis of measurements
Five-level comparator function with buzzer
Auto power ON and OFF functions
Density determination function (optional density determination kit available for the 0.001 g models)
Underhook for weighing a magnetic material as well as measuring density
Security slot in the rear of the balance to accommodate an anti-theft lock
Model & Capacity
(scroll right for purchase/enquiry details)
Model
Capacity
Weighing Pan
Unit Price
excluding GST
Action
GF-203A Balance

220g x 0.001g

128mm x 128mm
$ POA
Enquire
GF-403A Balance

420g x 0.001g

128mm x 128mm
$ POA
Enquire
GF-603A Balance

620g x 0.001g

128mm x 128mm
$ POA
Enquire
GF-1003A Balance

1100g x 0.001g

128mm x 128mm
$ POA
Enquire
GF-2002A Balance

2200g x 0.01g

165mm x 165mm
$ POA
Enquire
GF-4002A Balance

4200g x 0.01g

165mm x 165mm
$ POA
Enquire
GF-6002A Balance

6200g x 0.01g

165mm x 165mm
$ POA
Enquire
GF-6001A Balance

6200g x 0.1g

165mm x 165mm
$ POA
Enquire
GF-10001A Balance

10kg x 0.1g

165mm x 165mm
$ POA
Enquire
Where can I purchase this equipment?

A&D Australiasia has a nation wide dealer network with outlets in all capital cities and in most regional locations. Call Toll Free 1800 241 434 for the location of your nearest dealer.

My product requires service/repair, how do I arrange this?

Contact the A&D Australiasia Service department on 08 8301 8120 or at [email protected] and they can advise on and coordinate your service requirement.

All A&D products purchased within Australia are covered by a warranty period which varies from 12 months to 5 years depending on the model.

Warranty covers against any defects in the material and workmanship negligence during the manufacture or assembly of the product for the period of the warranty.

Warranty claims should be submitted through your initial dealer or place of purchase with your proof of purchase tax invoice.