AD-4212D Micro Analytical Weighing Sensor
The AD-4212D series brings the precision of high-end laboratory analytical balances to production lines/systems with unprecedented flexibility and utility. High Resolution, High Stability & Space saving. The AD-4212D comes standard with a small breeze break, which reduces the destabilizing effects of drafts and air turbulence.
Product Brochure & Manual
Related Video
2id_Tc7X2og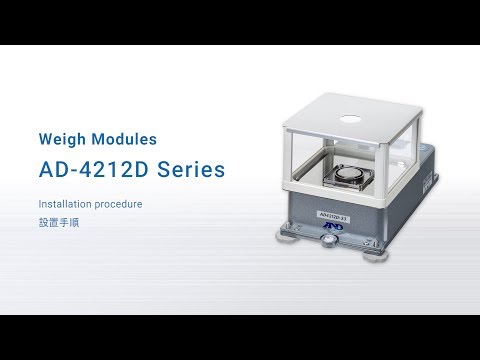 AD-4212D Weighing Module Installation
xc3C_OdhaPE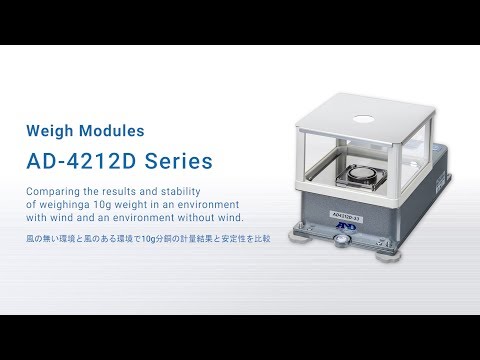 AD-4212D Weighing whilst being exposed to wind
Features
Minimum weighing value from 1 µg
EM-DLC* technology for direct connection to a PC or PLC
Compact size and resistance to vacuum state ideal for use in a glove box
Stable measurement in a fume hood (for 0.1 mg readability only)
Internal calibration function to ensure accuracy with one key press
Protection mechanism against vertical and transverse overloading due to actuator malfunctions, etc.
Adjustable response characteristics to help cope with the effects of drafts and vibrations
Automatic zero display after data output
Equipped with a small breeze break
Possible to design and attach your preferred weighing pan/receptacle
Clock and calendar function
Underhook for weighing magnetic materials and density measurements
GLP/GMP/GCP/ISO compliant output
Clock and calendar function
Built-in temperature sensor for temperature data output
Can be secured directly to a base by removing the leveling feet and using screws
Water-resistant cap for cleaning**
High extensibility with A&D's various peripheral devices
AD-1691 weighing environment analyser provided as standard
Additional Information
Specifications
Model & Capacity
(scroll right for purchase/enquiry details)
Where can I purchase this equipment?

A&D Australiasia has a nation wide dealer network with outlets in all capital cities and in most regional locations. Call Toll Free 1800 241 434 for the location of your nearest dealer.

My product requires service/repair, how do I arrange this?

Contact the A&D Australiasia Service department on 08 8301 8120 or at [email protected] and they can advise on and coordinate your service requirement.

All A&D products purchased within Australia are covered by a warranty period which varies from 12 months to 5 years depending on the model.

Warranty covers against any defects in the material and workmanship negligence during the manufacture or assembly of the product for the period of the warranty.

Warranty claims should be submitted through your initial dealer or place of purchase with your proof of purchase tax invoice.